Crewe Tyre & Exhaust helps local charity, Cheshire Buddies, get on the open road
June 19, 2015
Katy Harrison
News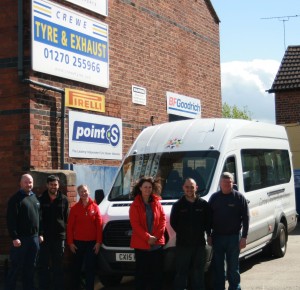 Crewe Tyre & Exhaust are helping Cheshire Buddies, a local charity that supports young people with disabilities take part in a range of fun activities.
Members of the Central Cheshire Buddy Scheme (CCBS) are getting ready to go on fun days out with their families and carers after Crewe Tyre & Exhaust pledged to offer free secure parking and support for its vehicle's tyres, exhausts and batteries over the next five years.
The two organisations were put in contact through Cheshire Connect, a charity that looks to help third sector organisations receive support from businesses based across the county.
Thanks to Cheshire Connect and Crewe Tyre & Exhaust's support, CCBS can now transport its members for trips and activities safe in the knowledge that it won't have to incur additional costs if they have a puncture. The garage has also offered to provide secure parking, giving the charity peace of mind that the mini bus will be safe overnight.
CCBS provides activity clubs for children and young people with disabilities, as well as advice, information and support to parents and carers of a disabled child. The charity supports more than 170 children and young people, 30 siblings and over 200 carers.
The charity recently received a mini bus from the Morgan Foundation, and was looking for a cost effective solution for the ongoing maintenance of the vehicle. Thanks to Cheshire Connect's matching service, the charity was put in touch with Crewe Tyre & Exhaust, which was more than happy to offer its expertise.
Stephanie Lawley, project manager for CCBS, said: "The support offered by Crewe Tyre & Exhaust is absolutely brilliant and is a great help to the charity. It means that any funds that we raise will be used to take the children on trips and activities, rather than on running the bus.
"The garage offering its help means that we know the bus will be safely parked overnight and any additional costs for tyres, exhausts and batteries will be covered, which will be one less thing for the buddies team to worry about."
Eric Harrison, owner of Crewe Tyre & Exhaust said: "The people of Crewe and the surrounding area have supported our business for over 30 years and we felt that we wanted to put something back into the community.
"We are very impressed with the work that Cheshire Buddies do to support children and young people with disabilities and this was a perfect opportunity for us to support them."
Donna Okell, chief executive of Cheshire Connect, said: "The generous support offered by Crewe Tyre & Exhaust will make a significant difference to the fantastic work carried out by CCBS.
"It's really pleasing to make a connection like this that has real benefits for both parties, and urge businesses looking to get involved with their local communities and third-sector groups seeking support to find out more about how we can help."
For more information on Cheshire Buddies, please click here.